About a year ago, when news of a global pandemic broke out, panic spread faster than the virus itself. Many products quickly began selling like hotcakes, thanks to widespread hoarding.
One such commodity that was once deemed a luxury but turned out to be a necessity was hand sanitizers. As more and more people began to get their hands on a few quantities, the sanitizers that suddenly vanished from store shelves were quickly restocked.
Although the panic buying situation was contained, its root cause was not.
With cases resurging and newer mutations emerging, India's briefly flattened COVID-19 trajectory is skyrocketing upward at an alarmingly fast rate, instilling fear among doctors that the second wave could be much grimmer than the first one and sending the nation in dire need of precautionary measures now more than ever.
Our hands are the most prone to come in contact with the virus, as we tend to touch multiple surfaces with them. If the surface happens to be contaminated, the virus could get transmitted to other parts of our body and infect us.
This is why the World Health Organization and medical professionals are giving us all a constant reminder of how vital it is to follow the necessary healthcare guidelines, beginning with hand hygiene.
While the more commonly mandated guideline is washing our hands at regular intervals with soap and water for at least 20 seconds, hand sanitizers serve as the next best option if a sink is not readily available.
Why use hand sanitizers?
Hand sanitizers have been popularly used in healthcare environments. Since the onset of the pandemic, you can spot a bottle almost everywhere now.
While handwashing is still the most preferred method of reducing the risk of transmission, it is not always that one can find a sink nearby with water running and has a bar of antibacterial soap in hand. This is where hand sanitizers come into play.
Their compact size, swift action and easier accessibility make them just as effective a choice as traditional handwashing, especially in high-risk prone settings that involve socializing in close contact with others.
The only case where the benefit of hand sanitizers wears thin is when there is a visible appearance of food, dirt or grease on our hands.
Why are alcohol-based hand sanitizers prescribed?
The World Health Organization has recommended sanitizers that have at least 60% alcohol in them, as alcoholic hand sanitizers have been proven to be the most effective against bacteria and viruses.
This makes our jobs as consumers much easier since most sanitizers have anywhere between 60-95% ethyl or isopropyl alcohol as their primary ingredient.
Case in point: earthvedic's Wide Range of Instant Hand Sanitizers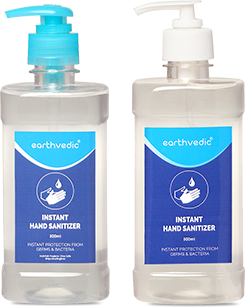 All our hand sanitizers have either 70% ethanol or isopropyl alcohol in them and come in varied sizes, ranging from 100 to 150 ml.
Fun fact: Alcohol has been used as an antiseptic since the 1800s.
Are they safe to use?
Alcoholic hand sanitizers are completely safe to use.
However, it is advised not to come into close contact with or store the bottles near an open flame, since alcohol is highly inflammable.
As for kids, while it is very safe for them to use the product, there is the concern of them consuming it accidentally. We must ensure that they are kept out of reach and are used only under supervision.
The power of hygiene is available in your hands (quite literally). Choose to use it wisely.