Description
Studies have shown that the most effective time for skincare is between 10 PM and midnight when there is an increased blood flow to the skin. While resting, the skin has ample time to naturally rejuvenate itself compared to daytime when it focuses on casting protection against damaging particles. Furthermore, absorbing ingredients like antioxidants in products designed for anti-aging and hydration is done much faster at night, thus making your skin more durable for the day.
WHAT'S INSIDE THAT MATTERS
earthvedic's Night Care Cream is an all-natural blend of Almond Oil that is rich in Vitamin E and Liquorice that prevents the production of skin darkening enzymes. Together, these provide visible skin lightening. In addition, the anti-oxidant properties of Olive Oil and Aloe Vera, combined with the benefits of crushed Fennel Seeds, bless you with young and glowing skin.
HERBS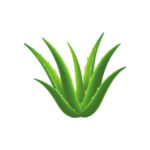 Application
Apply the cream on your cleansed face, gently and in a circular motion, until it is fully absorbed. For optimal results, don't forget to use the product every night.